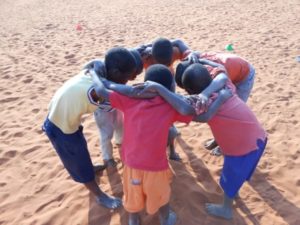 Since the main responsibility for the organization and implementation of the "Festa de Futebol" events haven been transferred to our local project coordinators Artur & Artur and our head coach Jair in august 2013, eight additional events have been staged with 835 kids participating in total.
Before the events were kicked off the pitch had been cleaned by the kids and coaches in a joint effort. This is necessary to provide a clean and safe playground and might help the kids to develop some kind of environmental awareness. Unfortunately the pitch gets littered again quickly due to the missing opportunities for litter deposal. Nevertheless we hope that regular cleaning actions will have an impact on the condition of the pitch and the safety of the participants in the long run.
Another emphasis of the recent events has been put on the integration of girls as they don't usually have the opportunity to play football and women's football in general is not appreciated enough in Mozambique. We hope that the Festas can contribute to the acceptance of girls on the pitch and beyond and would like to see boys and girls play together more often thus enforcing their mutual acceptance and appreciation.